Showroom Hours will be 7:00am – 4:30 Monday – Thursday, and 7:00am – 3:30pm Friday.
You can reach us by phone at (507) 200-2904 from 7am-5pm.
After-hours emergency tech line is still available.
Due to the Coronavirus/COVID-19 we are responding to the guidelines established by the state of MN, the CDC and Public Health Officers. We are operating pursuant to the CDC guidelines regarding maintaining "social distancing" and other safe working practices during this unusual time. The nature of our service already provides for adequate social distancing, however, we are taking added precautions by requiring our staff to regularly practice proper hygiene between jobs and thoroughly disinfecting parts and equipment in your home we come in contact with. Service, repairs, and replacements of garage doors, electric openers, gates, gate openers, in addition to other access systems and their components are critical to ensure that necessary movement of people and vehicles in order to protect the health and safety of citizens, businesses, governmental units, and their property and facilities. Garage Door Services are considered an essential service and we will respond to your garage door repair and replacement needs professionally and as quickly as possible.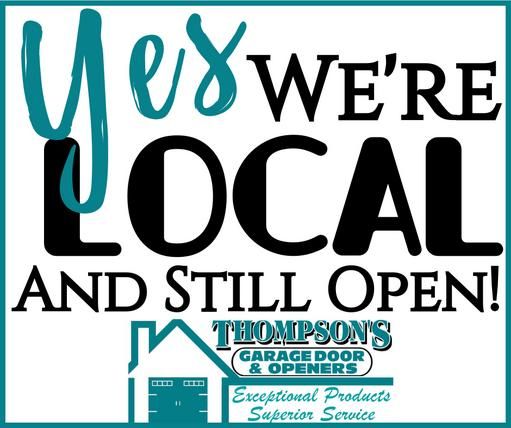 Garage doors are often used to provide a means of exit and egress from our homes. Properly functioning doors can facilitate exit from homes for people who may need to seek medical attention or to respond to public service calls. They can also provide easy access for emergency personnel seeking to care for residents.
Overhead doors, including rolling fire doors, can be a key element of buildings. Whether providing fire safety as part of fire wall assemblies or facilitating vehicle access to transport people or essential goods, these systems are an integral part of essential building operations.
Gates and gate openers provide security and controlled access to buildings, parking garages, and properties. Their operation is important to provide access for first responders, security for building occupants, and controlled access for visitors.
WHAT WE ARE DOING FOR YOUR BENEFIT
We have told our employees not to come to work if they have any symptoms of illness or if anyone in their household is sick.
We've instructed all our technicians and drivers to take extra precautions when coming into contact with customers at their homes or businesses. They are practicing regular hand washing and have been provided hand sanitizer.
Do not shake hands with customers (No touching)
Avoid going inside customer homes (if possible)
Do not touch anything in the home including doorknobs
All regular touch points such as door handles, phones, etc… are being sanitized regularly.
We have supplied our techs with latex gloves and booties to wear.
We have limited our shop/office hours to the public to limit/reduce walk in traffic and the amount of people in the showroom at one time. Our office staff is available to fully service customers via phone and/or email.
WHAT YOU CAN DO FOR OUR EMPLOYEES
If you have a service call scheduled and you or someone in your home becomes ill, please alert us. This also applies if you have come in close contact recently with someone who has tested positive for COVID-19. We can make necessary repairs or replacements without our customer being present. We are also happy to reschedule your appointment.
We request that our customers do not be in the garage during the installation and/or repair
Make sure we have your cell phone number and email address so that we have multiple ways to contact you in case we urgently need to reach you.
We will only be accepting credit card payments at this time to reduce the spread of germs that can be transferred with checks or cash.
We understand these types of repairs and replacements you are seeking are unforeseen and we remain available 24 hours a day 7 days a week to provide emergency services to ensure our clients safety and security of their homes and/or businesses.