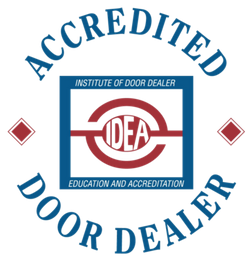 What is the IDA?
The IDA stands for International Door Association. Its primary mission is to provide programs and services to door and access systems dealers, for the express purpose of enhancing their value and professionalism. Door and access systems dealers sell, install and service a vast array of products including:
Residential Doors and Operators
Commercial Doors and Operators
Fire Doors
Gates
Founded in 1995, the trade association (501 c 6):
Produces an annual trade show and exposition (the IDAExpo)
Publishes the industry's leading trade journal (International Door & Operator Industry)
Facilitates the creation and production of educational, accreditation, and certification programs through its partnership with the Institute of Door Dealer Education and Accreditation
Provides educational scholarships to IDA members via the IDA Scholarship Foundation.
Enforces a Code of Business Conduct equally important to ethical door dealers and consumers.
What does IDEA accreditation mean for you?
This specific accreditation is available only to companies who sell, service and install overhead doors and access systems. It is a voluntary program in which garage door professionals must complete an extensive, comprehensive six-part study course covering all aspects of the residential and commercial door and access systems industry.
In addition to passing six written examinations, applicants must provide documentation to IDEA regarding insurance coverage, proper tax registration and/or licensing, business tenure and reputation. Companies that earn IDEA Dealer Accreditation are able to hold themselves out to the general public as having met a voluntary standard of quality that is recognized by the industry as a symbol of excellence.
Learn more about the International Door Association by clicking the logo below!