COMMERCIAL GARAGE DOOR & INDUSTRIAL GARAGE DOORS
Whether it's your own small business location that's been in the family for decades (like Thompson's Garage Doors and Openers), or an important storage location for your farm tools and equipment, an effective commercial garage door is a critical component to effective operation. It needs to be as durable as it is efficient, to withstand the elements and the rougher and tougher conditions. It could be a simple bump from your tractor wheel or more general wear and tear that comes with operating a business; whatever your commercial or farm garage door may face, you need to be able to trust its durability and functionality at all times.
Luckily, our team at Thompson's Garage Doors and Openers is here to help. Our team has been providing service, maintenance, and installation all over the Southern Minnesota area for almost 30 years, on all types of commercial and residential garage doors. We have a wide selection of high-end commercial garage doors and industrial garage doors, safety-tested and with an incredible high amount of durability. Keep reading to learn more about our commercial and industrial garage door services, and how our team can help you.
Your Go-to Provider
of Quality Industrial and commercial garage doors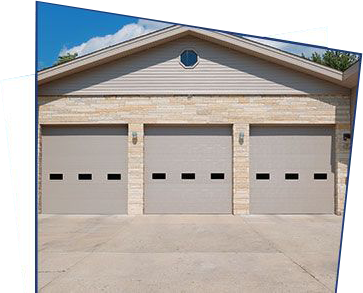 Commercial
Garage Door & Industrial Garage Door Service
REPAIR AND MAINTENANCE FOR COMMERCIAL GARAGE DOOR
Your commercial or industrial garage door serves a critical purpose for your business and it's operation. It could be safely storing valuable equipment from potential thieves, it could be keeping your tools protected from the elements, or it could be sealing away food and perishable from pesky critters. Whatever the reason may be, you need your commercial garage door functioning and reliable. And when it's neither of those things, you need to call in a professional to fix that. Luckily our team has extensive experience with a variety of commercial and industrial garage door types.

Service and repair all types of industrial and commercial garage doors and openers
Preventative maintenance — oil and adjust your door and opener, check spring tension, frayed cables, roller wear, loose hinges or bolts, etc.
Worm gear kits for your opener
Repair or replace broken springs, cables, rollers, etc.
Install extension to Torsion Spring switch-over
Replace lost, old, or stolen remotes
Replace old, broken, or non-insulated doors for new, ​high-end insulated garage doors
Replace or repair door sections
All types of seal replacement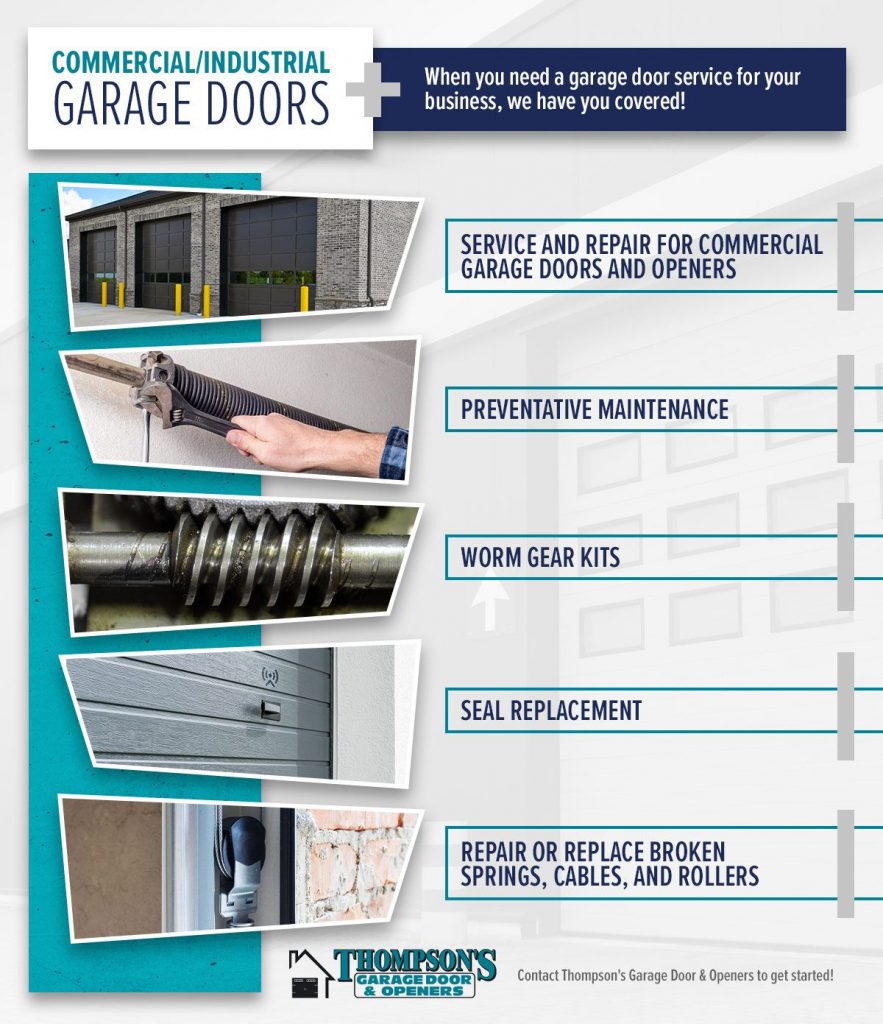 REPLACEMENT AND INSTALLATION FOR COMMERCIAL GARAGE DOOR
Like any good business owner or farm operator, adapting to change and implementing new products and strategies is part and parcel of success. An important aspect of that is when to invest in new parts and new products, and what they can offer you. With a commercial or industrial garage door, letting it go beyond repair is rarely an option, and new models (like the ones we offer from Thompson's) offer a level of durability and trustworthienss in quality that an older and weathered model simply can't offer. Thompson's Garage Doors and Openers boasts an impressive selection of performance and safety-tested commercial and industrial garage door options, from industrial overhead doors to rolling-steel garage doors. Keep reading to see the brands we offer, and how our team can help provide them to you

We are proud to be a 5-Star Authorized Dealer of C.H.I. Doors. We buy directly and are able to provide warranties on their products. Made and manufactured in Arthur, Illinois, ​C.H.I. Brand Doors make up most of our garage door sales, due to their incredible quality. C.H.I. also offers our staff opportunities for education and tours of their plant, which provides an invaluable experience for our staff that we want to pass on to you!
We are proud to be an dealer of North Central Garage Doors. We buy directly and are also able to provide warranties on their products. North Central Doors are renowned for their incredible durability lasting strength, especially in the cold Minnesota winters. Find the North Central Door you need at Thompsons, both for commercial and residential purposes.
We are proud to be an a dealer of Haas Doors. We buy directly and are also able to provide warranties on their products. Haas Doors are carefully crafted with locally sourced materials, and with eight distinct product lines that cater to a variety of needs, Thompson's will have the Haas product that fits your business or home.
Contact Thompson's Garage Door and Openers to see how our team can meet your commercial and industrial garage door needs. Call us today!
Thompson's offers durable and efficient garage doors and openers for various commercial, agricultural, and industrial applications. Please do not hesitate to contact us if you have any questions or discuss your project. A member of our knowledgeable staff will assess your requirements and provide you with a selection of commercial garage door models from our extensive inventory. In this case, you'll be given the option of selecting the door that will last under typical industrial conditions.
BE CONFIDENT IN OUR SERVICES
A faulty garage door can harm your business in many ways. If it sets your business back years it is worse than an irritation. Companies in Minneapolis don't have to wait days for commercial garage door repair to be completed. Thompson's Garage Door Service can assist you with your commercial garage doors since the job is completed promptly and correctly on the first visit. No matter what kind of garage door requirements you have, we will exceed your expectations.
Thompson's has more than 30 years of experience installing and maintaining commercial and industrial garage doors and overhead doors. We have specially-trained professionals on staff to ensure that your company's garage doors are in good shape and operating adequately at all times. If you have any concerns regarding commercial garage doors in Southern Minnesota, you should contact Thompson's Garage Doors. Our commercial garage doors are built to withstand the rigors of commercial and industrial environments, while our residential garage doors are unsurpassed in their quality.
We are happy to welcome you to our state-of-the-art showroom, office, and presently seven fully equipped service vans to serve our customers as a C.H.I. Overhead Doors door dealer is also a 5-star dealer and is an authorized LiftMaster dealer for residential and commercial openers and gate operators. We always have everything in stock, and we have an ample supply of garage doors in both insulated and non-insulated varieties to choose from. See what we can do for you!