MOTORIZED SCREEN DOOR IN ROCHESTER MN
The mesh screen is probably one of the most underappreciated inventions ever made. While the idea behind it isn't very revolutionary, nor is the design and technology very groundbreaking or modern, the ability to have outside air flow through your indoor home or business without exposing the indoors to the full exposure of the outdoors is incredible. We live comfortable lives inside, and occasionally, we make adventurous treks outside whether it's camping, hiking, sports, walks, or other outdoor activity. Breathing in the fresh outside air is one of life's simple pleasures, but it's practically impossible to recreate in an indoor environment.
So why not just bring the fresh outside air into the indoor environment? That's where the high-end motorized screens from Thompson's Garage Door and Openers come in. The simple and underappreciated implementation of a screen on your home or business is pretty hard to upgrade upon, but with our motorized screens, you can take the simplicity and effectiveness of a screen and modernize it for efficiency and your convenience. Keep reading to learn a bit more about the value of motorized screens, the types of motorized screens we offer at Thompsons, and how our team can best serve you!
Enjoy the nicer months
with a hight-end motorized screen from Thompsons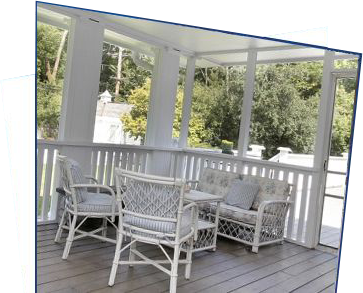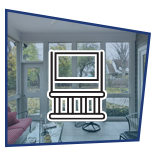 EXPAND YOUR OUTDOOR LIVING SPACE WITH A MOTORIZED SCREEN DOOR
A screen offers a very unique characteristic to any space in your home; it extends your living space to the outdoors, without having to expose your living space to the outdoors. Whether it's your patio out front or a seating area out back, the feel of natural air and allowing your space to accommodate the outdoor temperature can be an ideal experience. But there is a reason you don't see folks with their front doors wide open when it's nice out; a full opening into your home is likely to allow bugs and other debris indoors, the exact stuff from the outside you don't want inside. But with a well-made mesh screen or a solar fabric screen, or even a vinyl screen, you get the airflow and comfortable outside temperature without any of the outdoor exposure that usually comes with it. And with a motorized screen, you can install it just about anywhere, as well as have full electronic control over its usage.
CUSTOMIZED TO FIT YOUR NEEDS IN ROCHESTER MN
The motorized screens we offer at Thompson's can be customized and personalized to not only fit the exact space you want, but also to fit your needs and usage. We offer Mystic Motorized Screens & Shades, which can be fitted to any space, whether it's your entire patio, your garage door, or even just a single window in your kitchen. Mystic Screens come in a variety of types that can cater to your needs like Mystic fabrics that can block harmful UV rays, Mystic solar fabrics that can reduce cooling costs by blocking heat and UV rays, or Mystic clear vinyl screens that are ideal for colder climates. And with motorized function for all screens, you can have total and convenient control of your motorized screen. Whatever your specific screen needs are, our team can craft and install the motorized screen you need.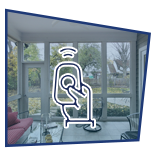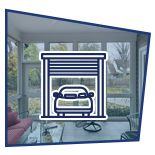 MOTORIZED SCREEN DOOR FOR RESIDENTIAL OR COMMERCIAL USAGE
A motorized screen can be an amazing addition to both a home or commercial business. For residential usage, a motorized screen can offer more living space that utilizes the natural enjoyment of the outdoors, and it can be implemented in a variety of places. You could make your front patio a more protected area while still keeping it outdoors and airy, or you could turn part of your garage into a relaxation space that allows a cool breeze without the dust and bugs that can come with it. For a business owner, a motorized screen can offer a new and enjoyable way for customers and employees to enjoy your property. A restaurant owner with a pavilion can offer a more protected space while still providing outdoor seating for patrons. An industrial warehouse can open up a large space and allow for airflow to cool off employees and limit heating/cooling costs, while still protecting the space against bugs and sweeping debris.
Get The open air space,
Withouth The Dirt And The Bugs
Motorized screen DOOR
in ROCHESTER MN - thompson's
A motorized screen can change your living or working environment for the better. The natural outside air is a simple and unique pleasure for any and every person and with a high-end motorized screen like the ones we offer at Thompsons, you can have that enjoyment, all from the comfort of your home or business. Learn how Thompon's can get you the motorized screen you need, and contact us today!
Contact Thompson's Garage Door and Openers to see how our team can meet your commercial and industrial garage door needs. Call us today!