For any proud homeowner, the front face of your home generally provides the first impression that anyone will have of your abode. Whether it's your front door or the spacing of your yard and driveway, everything on the front of your house combines into a larger aesthetic of "curb appeal", an initial impression that anyone can gather from the curb. And your garage door is one of the biggest parts of that curb aesthetic, both in actual size and importance. Visually, it essentially acts as a front wall, but a wall that moves, so it has to have a mixture of blending with your house aesthetic, while also operating efficiently and independently to house your car(s).
With your garage door serving such an important purpose, both visually and ergonomically, it might seem difficult to find the right style and the right model. That's where Thompson's Garage Doors and Openers comes in. Our team of garage door experts have been serving Southern Minnesota with excellent residential garage door inventory and services for almost 30 years. Whether you are looking for repair or replacement, keep reading to learn more about our residential garage doors services, and how our team can serve you.
Your Trusted Provider
of garage door repair and replacement services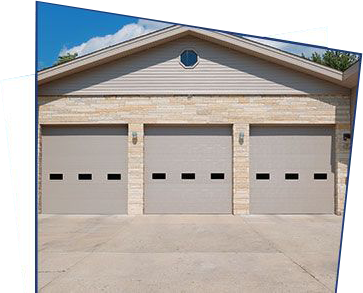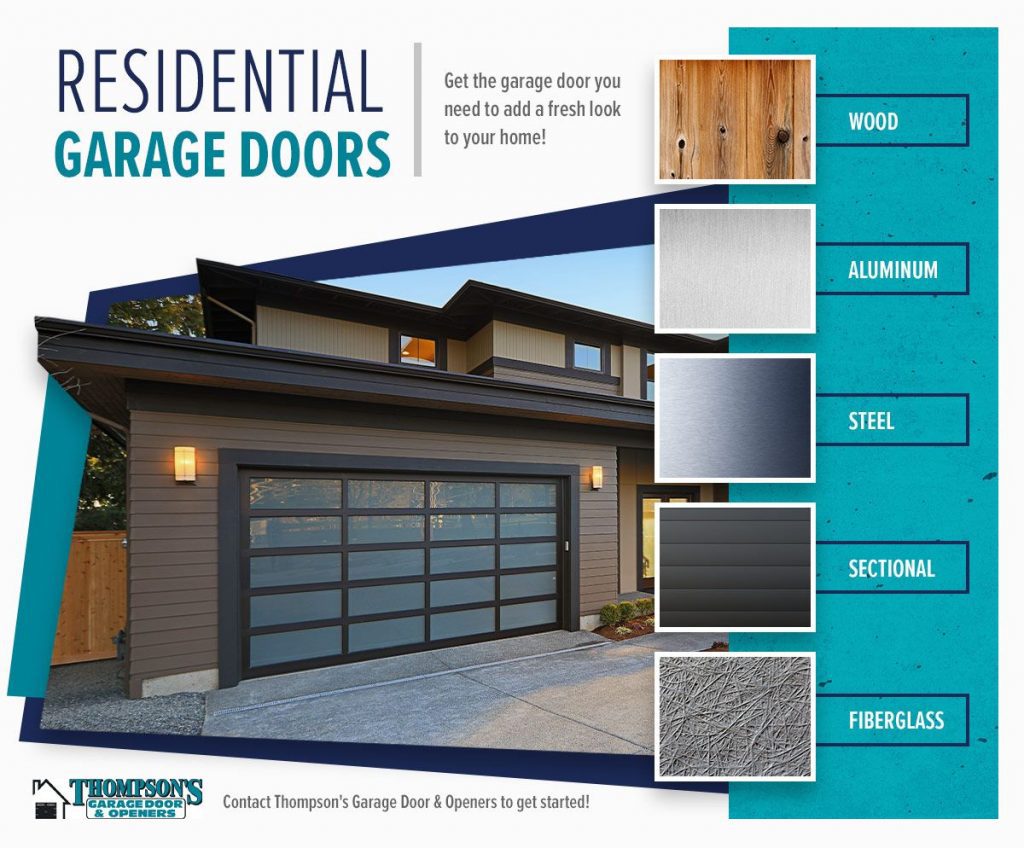 Residential
Garage Door Services
Your garage door is a massive contraption with many moving parts. You might want to give any potential repairs or maintenance a good DIY attempt, but it's important to consider the risks. Many of these parts like garage door springs or the door itself are powerful and heavy, and one wrong step could cause serious bodily harm. And trying to operate your garage door after an inaccurate or dysfunctional repair could cause more damage and cost even more money. For all of your garage door repairs and maintenance needs, use Thompsons. We can offer a variety of services for your garage, including:

​Service and repair on all types of garage doors and openers
Preventative maintenance – oil and adjust your door and opener, check spring tension, frayed cables, roller wear, loose hinges or bolts, etc.
Repair or replace broken springs, cables, rollers, etc
Install keyless entry systems
Replace lost, old, or stolen remotes
Replace or repair door sections
All types of seal replacement
REPLACEMENT AND INSTALLATION
If your garage door is past the point of repair, or you are just in the market for a new and more visually appealing one, our team at Thompson's has you covered. In addition to offering a variety of replacement and installation services, both for your garage door opener system and your garage door itself, we also can install a variety of upgrades to your garage door, like a keyless entry system. We have a wide selection of different garage door brands that cater to different needs and aesthetics. Keep reading below to see the brands we carry, and how we can install one for you!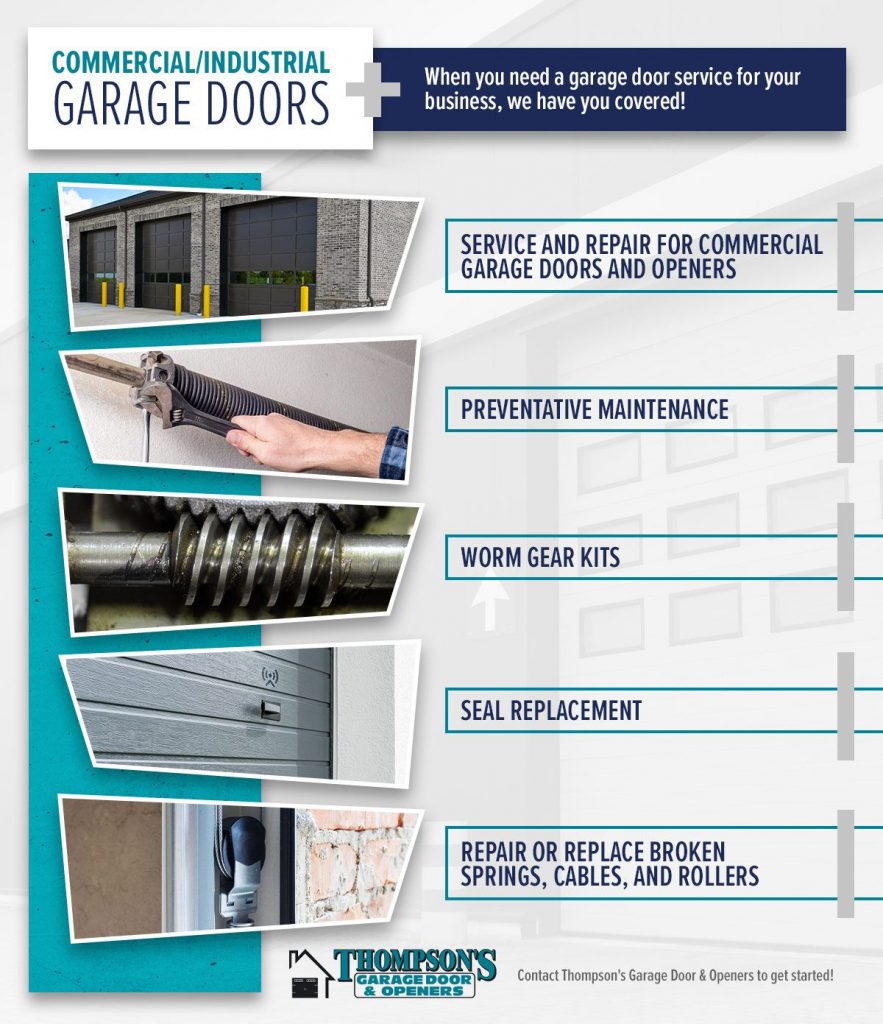 We are proud to be an dealer of North Central Garage Doors. We buy directly and are also able to provide warranties on their products. North Central Doors are renowned for their incredible durability lasting strength, especially in the cold Minnesota winters. Find the North Central Door you need at Thompsons, both for commercial and residential purposes.

We are proud to be an a dealer of Haas Doors. We buy directly and are also able to provide warranties on their products. Haas Doors are carefully crafted with locally sourced materials, and with eight distinct product lines that cater to a variety of needs, Thompson's will have the Haas product that fits your business or home.

We are proud to be a 5-Star Authorized Dealer of C.H.I. Doors. We buy directly and are able to provide warranties on their products. Made and manufactured in Arthur, Illinois, ​C.H.I. Brand Doors make up most of our garage door sales, due to their incredible quality. C.H.I. also offers our staff opportunities for education and tours of their plant, which provides an invaluable experience for our staff that we want to pass on to you!
Contact Thompson's Garage Door and Openers to see how our team can meet your residential garage door needs. Call us today!
Are you unhappy with your current garage door and are ready to make a change? You should avoid having your garage doors detract from the appearance of your home's outside. They should make a positive contribution to the overall appearance of your house. A well-maintained garage door may enhance the curb appeal of your house, increasing the amount of money you get when you decide to sell your home. You may choose the safe, aesthetically pleasing, and stable garage doors that you desire from our extensive selection of standard, custom, and universal garage doors.
LEAVE IT TO THE PROFESSIONALS
Thompson's Garage Door and Openers, in Southern Minnesota, is your one-stop-shop for all of your door and equipment requirements. We understand that this piece of equipment is a necessary part of your everyday routine and that it is not something that comes to mind often. Keep your attention on what is in front of you rather than what is behind you. We are here to assist you in making your process as simple as possible, whether you are buying new doors or repairing old ones. Our local offices and partners have committed themselves to provide trustworthy information to preserve community partnerships that you can rely on. Our personnel are installation, repair, and maintenance experts who emphasize high-quality goods and the highest level of safety.
INCREASE YOUR HOMES CURB APPEAL
Customer loyalty is dependent on the quality of the product, the recognition of the brand, and the quality of the service provided to them. While customer satisfaction with the sales process itself is essential, it is overshadowed by the significance of the client's satisfaction with the end product. Our customers find innovative ways to save operating expenses while incorporating environmentally friendly products into the sales process. House design experts agree that altering the garage door on your house may dramatically change the look of your home instantly. Allow us to help you make the best choice for your garage door to improve the look of your house. Your home's exterior appeal will always be attractive when you have one of our cutting-edge garage doors installed. Make your home more beautiful by utilizing our services.